Prize Rush!
Stand a chance to win big with our exciting prize rush contest on your money transfers.
You now become a participant
after these steps.
Quick Sign up
Sign up on OA Pay through our quick and easy steps.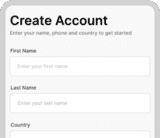 Enter Amount
Enter the amount you want to transfer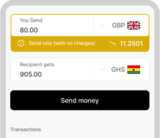 Add recipient & Send money
Add all the correct details of your recipient and send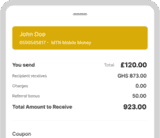 Increase your chance of
winning the contest


by transferring more.
Sweet Bonuses
Get transfer bonus on top of the highest transfer rates in the market.
Built by Africans
Africa-first platform built for the community and by the community.
Women Empowerment
We support Women empowerment in our local communities.
FAQ
Who can win/participate in the Prize Rush contest?
The contest is open to all the verified users of OA Pay, who use our money transfer services and every user is eligible to win the prize rush contest.
How many winners are selected for the Prize Rush contest?
Only one winner is selected at the end of the contest.
How is the winner selected for the Prize Rush contest?
Every month, a winner will be selected by identifying the user with the highest amount transferred cumulatively to anywhere in Africa via us by the contest end date
How do I know if I am the winner?
Winner will be announced publicly on our social media, newsletter and other display promos based on user's consent within 20 days from the contest end date.
Can a user win multiple times?
A new winner is selected every month. The same winner cannot win the Prize Rush Contest consecutively more than once, but can win again after a cooling period of two months.
What if my OA Pay account has multiple failed transactions, can I still win?
Please note, failed money transfer transactions will not be considered for the prize rush contest. Only successful money transfer transactions will be counted to select the winner.